The Band-LOK band passage technology addresses a wide range of complex spinal pathologies for adults and children alike.
WAXHAW, NC (PRWEB)
SEPTEMBER 20, 2016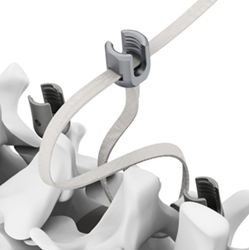 Band-LOK, LLC a developer of anatomy friendly medical technologies for orthopedics, today announced the first-of-its-kind spinal surgery using the company's pedicle-sparing polyester band technology; made available to the market via a licensing agreement with OrthoPediatrics Corp (Warsaw, IN).
"The Band-LOK technology was developed as a novel way to approach various orthopedic defects using polyester bands and intuitive instrumentation. The Band-LOK system changes the paradigm for treating bone pathologies, including complex spinal deformities like scoliosis," said John Kapitan, head of R&D and Co-Founder of Band-LOK.
Dr. Mike Albert performed the first case on August 22, 2016, at Dayton Children's Hospital in Dayton, Ohio. "The technology's unique Tether Clamp System was used in a neuromuscular scoliosis measuring 90 degrees," said Dr. Albert. "The case went exceptionally well; demonstrating the versatility, simplicity and power of the band to correct severe spinal deformities. The system performed flawlessly, gradually correcting this large spinal deformity with no bone or band failures."
Band-LOK, LLC was granted a patent by the United States Patent and Trademark Office (USPTO) in November, 2015, and has other patents pending. The company is focused on expanding its band technology to other orthopedic applications and exploring synergistic licensing agreements beyond spine.
Randy Roof, President and Co-Founder added, "We are in the business of pushing boundaries of tether band technology for orthpedics, and the first clinical case is an important step in that direction."
Based in Waxhaw, NC, Band-LOK, LLC. is a medical technology incubator composed of industry veterans and scientists focused on developing a suite of less invasive, anatomy friendly band technologies and a robust IP portfolio.
Randy Roof (President/Co-founder)