Dr. DeGenova performs successful procedure using SpineFrontier's LES Technology: Inspan.
BEVERLY, MA (PRWEB)
APRIL 26, 2013
SportsMedicine Grant & Orthopaedic Associates announced today that Dr. DeGenova performed a Less Exposure Surgery technique using Inspan, SpineFrontier's spinous process plate system. Inspan is the next generation design in interspinous fixation systems.
The operation took place on January 3, 2013 at Fairfield Medical Center in Lancaster, OH. The surgery was a decompression L2-3 on a female patient with severe stenosis.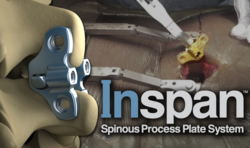 The Inspan Spinous Process Plate System is a posterior, non-pedicle, supplemental fixation system intended for use in the non-cervical spine and for plate fixation or attachment to the spinous process. Its low profile design minimizes the footprint of the implant within the patient. Made of titanium, the Inspan implant provides superior strength and fixation while its dual interlocking hub with dual set screws provides an exceptionally rigid design.
Dr. DeGenova describes Inspan's surgical advantages, "Inspan's dual locks make it a very secure and stable device to use. Its spike design also enhances fixation." Dr. DeGenova also uses other SpineFrontier medical technology, including the Invue Inset, DBM Pure Micro, Dorado T-LIFT and PedFuse REset for lumbar fusion.
Dr. DeGenova is a board-certified orthopaedic surgeon who specializes in reconstructive spine surgery at the SportsMedicine Grant & Orthopaedic Associates in Columbus, OH. He has been practicing medicine for over 25 years. Dr. DeGenova received his doctor of osteopathy degree from Ohio University College of Osteopathic Medicine. He completed an orthopaedic residency at Dallas/Fort Worth Medical Center and a foot and ankle fellowship at the University of Texas Southwestern Medical Center at Dallas Parkland Medical Center. He also completed a spine surgery fellowship at Spine Surgery in Louisville, Kentucky. Among other honors, Dr. DeGenova has been awarded the "Excellence in Orthopedics" Harold E. Clyborne Award. Dr. DeGenova is a registered member of the Less Exposure Surgery Society (http://www.les-society.org).
Dr. DeGenova describes his philosophy of surgery, "First and foremost is patient care. I treat my patients as individuals, and for all of them, I want to decrease blood loss, recovery time, and incision scar." As part of his commitment to excellent care, Dr. DeGenova prioritizes individual needs when choosing medical devices for his patients' procedures.
SpineFrontier Inc. (http://www.spinefrontier.com) is a growing medical device company that designs, develops and markets implants and instruments used in spine surgery. The SpineFrontier team focuses on developing innovative and disruptive technologies and techniques for spinal surgery based on the Less Exposure Surgery (LES) philosophy. These technologies allow for same day outpatient surgery with minimal disruption of the tissues. The company was founded in 2006, released its first products in 2008, and is headquartered in Beverly, MA.